03-29-2023, 09:56 PM
Sometimes collector

Join Date: May 2008

Posts: 1,768
Starship Excalibur
---
Title: Starship Excalibur
Kit number: KV-85
Background information brief: The original Starship Excalibur was released by Estes Industries in 1968 as free plan #55. Unlike many of the other free plans at the time, it was not published in the Model Rocket News. It became a popular model as many rocketeers ordered parts to build their own version. Estes released a kit by the same name and similar lines in 1984, but it was a simplified version of the original and only had a two-year run in production.
The Semroc Retro-ReproTM Starship ExcaliburTM is close to the original plan design. Seven balsa nose cones and laser cut fins along with pre-cut slots make this an easy- to-build model. It features a large waterslide decal to match the original plan drawing. The shock mount is replaced with a Kevlar® cord for greater reliability.
Designer: Estes
Release Date: 04/01/2013
In Production: 2013-2014
Requested attachments:
Fin patterns (200 dpi grayscale PDF)
Decal scan (600 dpi color PDF)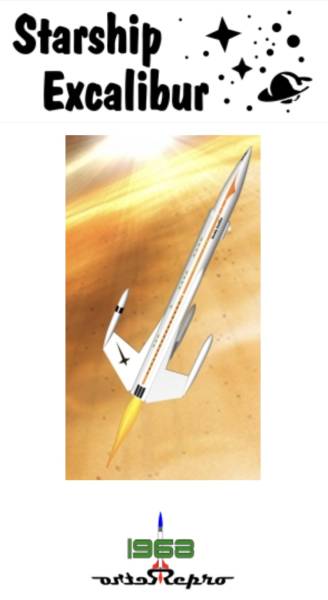 ---
Last edited by 5x7 : 03-30-2023 at

05:51 AM

.