Those four sets of two black circles, I'm pretty sure represent RCS thrusters. Such as in this view of the Apollo Command Module (along the base)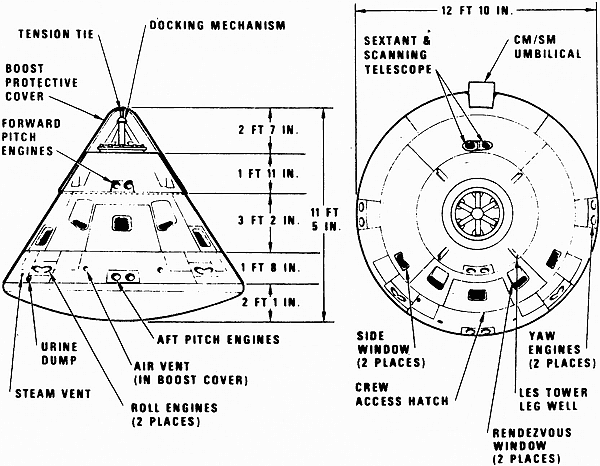 After sleeping on it, I'm thinking the crew cabin (or Command Module) is the blunter conical section, with the horizontal "UNITED STATES" lettering on it (which the Apollo CM had on its Boost Protective Cover). I'm not implying that a "real" Mars Lander would necessarily have a command module that would separate, just that's where I think the crew would be. In area "A" in the image below (sorry I do not recall the original source of this great photo/model, which I modified)
The only way to justify the "Command Module" being the BT-60 nose cone ("B" above), would be if the entire Ascent Stage was intended to fly all the way back to Earth, but that would make no sense to not rendezvous with a mother ship for the flight home. And of course this is the Mars LANDER, analogous to Lunar Lander, not Mars Voyager.
As for the "Beware of Blast" text that I added above the squashed checkerboard decals, that's a nod to an OLD generic decal set Estes used to have. Also used on some aircraft (and aircraft carriers), and the X-15. And when THIS model is flying on quad power, ya better "beware of blast" (and props) if you're THAT close to read it!
Regarding windows for landing, they needed that back in the day. And "Astronaut power" indeed caused Mercury to have a window (for orbital flights) even when it wasn't really needed (there was a periscope). These days, rockets like the SpaceX Falcon-9 land themselves with accuracy of a few feet. The landing spot for Mars Missions would be checked out by satellites long in advance, for a landing area that is smooth enough (Heck, I'd not be surprised if the first crewed landing area on Mars was one that a rover drove thru).
But as I referred to earlier, the crew could look at video monitors to check out the projected landing spot, and if they wanted to avoid some spot and "fly" to a different area nearby, they'd move the cursor and click on where they wanted it to land. No need to be head-up looking out a window. If they could not trust the flight controller to land them accurately, and could not rely on triple-redundant camera systems, they could not rely on anything to survive the trip anyway. Yes, I do realize the Mars Lander was designed 50 years ago, not today's tech. But given that it doesn't show any windows for landing, that could be a viable explanation (uncrewed vehicles were landing themselves before Apollo made it to the moon, and after, like Viking on Mars in 1976. And TV cameras pretty reliable if you kept Alan Bean away from them.
).
BTW - some modern proposals for Supersonic jets to fly passengers, solve the pointy nose and high angle of attack limited view for pilots to see forward for takeoff and landing, with a video camera system. The pilots would never see the runway directly in front of them on landing, they'd look at a TV screen/monitor. As opposed to the "droop snoot" nose that Concorde and Concordsky had.